This week is staff picks week at Postrockstar! Each day we will be posting our writers favorite songs and albums of 2012. This will lead into to our big 2012 Year End Awards special in roughly a week. Our first staff picks article comes courtesy of Bryan, a well accomplished writer from Pennsylvania. Bryan is working hard towards a bachelors in professional writing and a minor in literature and has been a welcome addition to Postrockstar the last few months. He lists his favorite bands  as Mono, GY!BE, Hammock, Stars of the Lid and Brian Eno. His favorite album is "Palmless Prayer/Mas Murder Refrain" by Mono and World's End Girlfriend  and he's been a post-rock fan for well over a decade.


1. Godspeed You! Black Emperor- Allelujah! Don't Bend! Ascend
The first new album in too long, and it does not fall short. In fact, it excels and shows why Godspeed is still one of the best post-rock bands. If you want to know what post-rock is and should be, have a listen.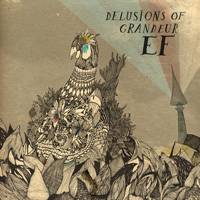 2. EF- Delusions of Grandeur
I know it's only an EP, but it does too much with the form to be ignored. These three tracks weave into each other showing that vocals can compliment post-rock without an issue. There is a power to this EP that needs to be heard to be understood.
3. Hammock- Departure Songs
This album is more ambient than post-rock, but it deserves a place on this list. Hammock evolves with this monstrous double LP utilizing an array of instruments and the inclusion of vocals to create a landscape of sounds. Utterly beautiful music.

4. Mono- For my Parents
I know many gave this album a hard time because they heard repetition instead of progress. What I heard was a band incorporating an orchestra in a way that didn't lead to unnecessary bombast. This album doesn't have the crescendos of Hymn to the Immortal Wind. For My Parents stands on its own as a well-composed and beautiful composition worth every second.

5. Brian Eno- LUX
Yes, I'm sneaking a completely ambient album on this list. Why? Because it's too good to pass up. Eno goes back and gives you a straight ambient album with electronic textures. This is a so-called 'return to form' for one of the greatest musicians out there.

6. Maserati- Maserati VII
I don't see Maserati as a post-rock band exactly. This album somehow combines electronic dance music with plodding guitar riffs. The drums are enough to tide a listener over. If you feel like tapping your foot to some post-rock, this is the album for it.

7.Caspian- Waking Season
What best of list wouldn't have this album on it? Caspian has started to change and that's a good thing. While this album doesn't blow me away anymore, it is a true example of how this genre can fight stagnation. A worthy listen with some memorable tracks.


8. Sigur Ros- Valtari
They're back. That would be enough for some people. Sigur Ros goes back to the more melancholic crooning on this album. The tracks are, of course, beautiful. Jonsi loves tugging at heartstrings in Icelandic or gibberish (Hoplandic). They aren't doing much to evolve, but they are still making amazing tracks that drift from post-rock to ambient to pop and anywhere else they feel like going.


9. Lo' There Do I See My Brother- With Eyes Open, We Fall on Our Swords
Without a doubt, this band wins most ridiculous over-the-top name of the year. However, the music is pretty damn good. Outside of a few stumbles into incoherent lyricism, the production and composition of these tracks is wonderful. I'm impressed with this new artist and look forward to their future outings.


10. Balmorhea- Stranger
I've always loved Balmorhea for their ability to make unique music not confined by the restraints of a genre. This album solidifies that motif. You can hear the thought and dedication that went into each track and the musicianship at work. They aren't afraid to change their sound and take chances, and this album proves that effort pays off.
Top 10 songs of 2012
1. EF- I Never Felt This Way Before
2. Sigur Ros- Varuo
3. Hammock- (Frailty) For the Dearly Departed
4. Maybeshewill- Red Paper Lanterns
5. Mono- Nostalgia
6. World's End Girlfriend- Storytelling, Again
7. Man Watching Stars- Vesper II
8. L'Astronaut- Separation Anxiety
9. Mogwai- Letter to the Metro (Zombi Remix)
10. Maserati- The Eliminator